Press Coverage
Articles about Presence and our artists
- - - - - - - - -
From The Norwalk Hour (CT), 4/9/15
Modern Man and Benefit Street Band share Voice Café stage this weekend
By Mike Horyczun
The celebrated singer-songwriter and funnyman Rob Carlson does double duty this weekend when Modern Man and the Benefit Street Band perform at Voice Café. Carlson is one-third of Modern Man, the award-winning and hilarious acoustic music trio, joining fellow singer-songwriters David Buskin and George Wurzbach. He also fronts the Benefit Street Band with Paul Payton on keyboards and Vin Pasternak on mandolin and fiddle. His son, Sam, will also perform on drums. The concert takes place at 8 p.m. on Sat. April 11. Voice Café is located at The Unitarian Church in Westport, 10 Lyons Plains Road, in Westport. Tickets are $25 at the door. Children 12-and-under are free. For details, call (203) 227-7205, ext.14, or visit: www.voicescafe.org
This is the first time the two groups have ever shared the same stage, and it gives local audiences a chance to experience Carlson's comedic and non-comedic musical sides. "Modern Man is a comedy show," said Rob Carlson, "all funny, all the time. As much as I love doing comedy and performing with David and George, I was frustrated that I had no outlet for my serious songwriting. With Vin and Paul, and sometimes Sam, I can do funny stuff, including a lot of the Modern Man material, but also perform my non-comedic songs. So of the two, I find the Benefit Street Band more musically-artistically satisfying as an outlet for all my writing, not just the funny ones."
This weekend's show is also part of a final tour of sorts, for Modern Man's current line-up. In October, George Wurzbach will no longer be touring with the group. "George teaches full time at Monmouth University in New Jersey, and that's his first responsibility," said Carlson. "Since most gigs for Modern Man are booked six months to a year in advance, he simply doesn't know that far ahead if his school responsibilities will allow him to be available, so he can't commit." The future of the group is still to be determined. "Over the summer we'll be looking at this and making some decisions," he said.
Area folk fans will remember Rob Carlson from the many years he held court at the Grass Roots. And next month, he hopes to start up a series that will reprise that environment. "Long ago and far away, in a strange land called Westport, I played for ten years, from roughly 1976 to 1986, at a small wine and cheese restaurant called the Grass Roots," explained Carlson. "It became a lot more than just a gig. It was a real community. I've always wanted to find a place where we could reproduce that vibe. So last fall, I met a new friend, Beth Bradley, who is an excellent guitarist and songwriter, who also has a connection with the Greenfield Hill Grange in Fairfield. The Grange Hall is a beautiful historic building from 1878 that is in need of some repair and preservation. It has an excellent performance venue with stage and seating for a hundred or more, so on May 2nd, I'll be there with the Benefit Street Band in a fundraiser. Beth will perform too. We're calling it the 'Grass Roots Cabaret'. I hope anybody that remembers the Grass Roots, and even if they don't, will come out for a great evening." New songs and recordings are also coming soon. "The Benefit Street Band is just finishing up an album, probably called 'Angels on the Radio' for Presence Records," he said. "I hope to have it out within a month. We're pretty close to finished." Visit: www.RobCarlsonMusic.com, which also has a link to: www.Modernman3.com.
From The Norwalk Hour (CT), Entertainment Weekend, 10/23/13
Rob Carlson and Benefit Street light up Good Folk Coffeehouse this weekend
By Mike Horyczun

It will seem like old times at the Good Folk Coffeehouse when experienced singer-songwriter and funnyman Rob Carlson pays a visit to the Rowayton-based concert space on Saturday, Oct. 26, with his band, Benefit Street. Carlson has been making regular stops to the monthly acoustic music series run by Bill and Brandi Hayden throughout his career. "Good Folk is now in its 24th season, and I've been playing there just about that long, with some gaps in between when I was working in radio and not performing live," says Carlson. "As a solo, with Modern Man, and now with the Benefit Street Band, it must be around fifteen times by now. I don't really know. At any rate, I love it. Bill and Brandi have been friends for many moons, since the Grass Roots days."

Those Grass Roots days still ring true for many area music fans, like me. The former Westport restaurant was located just over the Saugatuck River bridge on Post Road East in downtown. It was one of the first in the area to host acoustic music regularly, plus it had an open-mike night, which I often frequented. And in its heyday, a few decades back, it featured Rob Carlson headlining on the weekends, pretty much exclusively. "I still see and hear from people who remember the Grass Roots regularly," said Carlson. "It was a wonderful time, probably 500 nights over ten years. It was entertainment, 'grad school' for me. I could try anything and see what worked."
His Grass Roots gigs may have made Carlson a local hero, but it was comedy writing that gave him a national audience. Carlson created song parodies and comedy bits for the "American Comedy Network", the premier syndicator of radio comedy and the ABC Radio Networks, and from 1997 to 2002 he wrote, produced and performed "Ramblin' Bob" for American Comedy Network, a satirical song created each week in the style of Bob Dylan, one of his many impressions. He also had his own award-winning production company called The Producers, creating jingles, records, and industrial music, lyrics and scripts for a host of commercial clients. And he was and still is - one-third of Modern Man, another Good Folk favorite, along with David Buskin and George Wurzbach. Over a ten year run that began in 1998, they released three albums and toured nationally and in eh UK, winning Back Stage Magazine's "Bistro Award" for Best Musical Comedy and the New York Nightlife Award for best comedy group in New York. The band is still active on occasion and has upcoming area shows booked.
Carlson notes that with his current band, Benefit Street, he's taking a little different approach. "Modern Man was all comedy all the time," he said. "It was great fun. David Buskin and George Wurzbach are very talented and funny guys. It opened a lot of doors, too, in New York and elsewhere. But at the same time, it was frustrating, because I was also writing a whole bunch of non-comedic songs and had no outlet for them. The Benefit Street Band is the band I always wanted to do, all original with a combination of comedy and 'straight' songs, a total entertainment. Vin Pasternak and Paul Payton, and occasionally my son, Sam, on drums, are wonderful guys to work with, talented and dedicated to getting it right. I'm really happy with the way we're playing these days." The group is close to finishing a new disc being recorded and mastered in Carlson's home studio which will follow its self-titled album from 2011. "We're about two songs short of finished and happy with every song," he said, "no fillers or throwaways, and good production values."
The Good Folk Coffeehouse takes place in the Fellowship Hall of the Rowayton United Methodist Church, located at 5 Pennoyer St., Rowayton AvAve.enue (Route 136) and Pennoyer St. in Rowayton. Doors open at 7:30 p.m., and open mike starts at 8 p.m. Feature goes on about 9 p.m. Adult donations are $25 and include entrees, desserts, coffee, tea, and juices. Half-price for children 7 to 12. Under 7, free. No reservations necessary. Call (203) 866-4450, or visit www.goodfolkcoffeehouse.com
--------

From The Daily Record (NJ), "Madison Chatham This Week" section, 3/14/2012

Rob Carlson & Benefit Street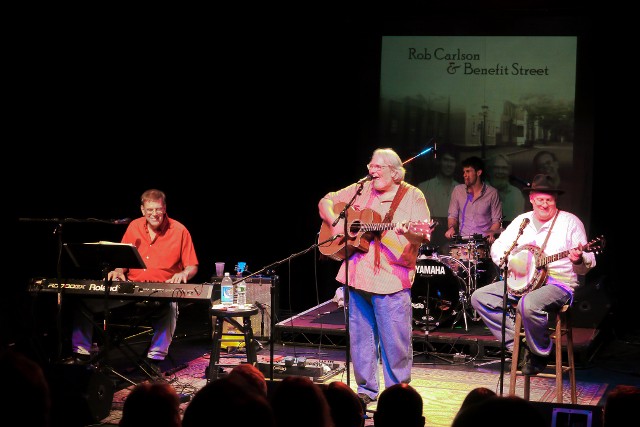 L-R: Paul Payton, Rob Carlson, Sam Carlson, Vin Pasternak
He's living the dream, and dreaming up the music
by Paul Bonasera

Paul Payton of Chatham Township is living his college dream of being a professional musician. He has reunited with singer-songwriter Rob Carlson and Benefit Street, the band the two of them organized and played in while attending Brown University in Providenc, R.I., more than 40 years ago.

"Rob and I got together again a little over two years ago," said Payton, 66. "He contacted me because someone was looking for our music for the Rhode Island Pop Music Archive."

Carlson and Payton are the only members of the original band in the revived Benefit Street, which also includes Rob's drummer son, Sam, and Vincent Pasternak, A multi-instrumentalist who plays the mandolin, violin, viola and guitar. Carlson remains the group's lead singer and guitarist, and Payton is the keyboard player.

"After all these years, it feels great playing with these guys. Rob is a phenomenal song writer and excellent singer," Payton said. "When we all play together, we create something bigger than the sum of our parts. I feel totally ageless and timeless. It's like yesterday again."

While some of the band's fans think its sound is from the 1960s, many say they sound a lot younger than they look, Payton said.

"I think our sound is as contemporary as anything that's out there today," he said. "We're looking to appeal to everyone, not just the old folks."

Their music, which Payton calls "folk rock Americana," includes such titles as "Georgianna," "The One Called Shenandoah" and "Money Moving Money Around," a topical humorous song.

Born and raised in New Rochelle, N.Y., "in the listening area of arguably that era's best radio market in the world," Payton says he knew he wanted to be on the radio by the time he was 8 years old. His parents told him his musical talent emerged when he turned 3, when he wrote his first song. He grew up playing the piano and composing music for as long as he can remember.

Payton studied music at the Juilliard School of Music in New York City before becoming a music major at Brown, graduating in 1969. Carlson, an American History major at Brown, graduated in 1970.

After college, Payton said, he and Carlson and some of their fellow musicians from college bands "decided to make the dream - music - a full-time career."

Their band was called The American Dream when they formed it in 1966. They renamed it Benefit Street in 1968, after the "hippest street" in Providence.

"We starved for a living," Payton said. "Our music was on the radio, but getting an album released never happened, mostly due to reord company politics. Having endured enough frustration, I went back to radio broadcasting fultime at the end of 1971," said Payton, who had earlier worked for radio stations on and off campus during college.

Payton earned a good reputation and several gold records as a program director, music director and on-air personality at several Connecticut radio stations in the years that followed.

These included WHCN, WDRC-FM, WPLR and Country 92.5, which hit No. 1 during his tenure.

"But radio was beming boring and predictable by the early '90s," Payton said, and he moved into recording voice-overs. He entered the fields of narration, announcing and voice-acting "with a passion" as his primary occupation.

Payton and his wife, Bette Schultz, have lived in Chatham Township since 1993. He served three years as a member of the township's Environmental Commission and was a Township Committee candidate in 2005.

The band, which recently opened at The Stanhope House, is looking for bookings, Payton said.

"We'll play anywhere in the northeast," he said. "We're a band playing its own music and looking for spots where people like to listen to original music. We believe in what we write, play and sing. And we're having a lot of fun doing it."

[Clarification: As noted in the history pages of this website, Alan Silverman and Rob Carlson started The American Dream with Mike Parker and Dave Roberts in 1966. Paul Payton joined in September 1968, and was with Rob when the band re-organized into Benefit Street in June, 1969. Also, after this interview was completed, the Rhode Island Pop Music Archive's name was changed to the Rhode Island Music Hall of Fame Historical Archive, reflecting its expanded scope of interest.]
------
For BOOKING, call 203-256-0580 or e-mail booking@RobCarlsonMusic.com
More performances to be announced - keep checking in!