The members of The Benefit Street Band have been busy with side projects. Rob Carlson has a new duet album with Beth Bradley on Inverted Turtle Records, and is working on a new solo album; some tracks are now available! Vin Pasternak's new album, "The Barcelona Note Book," has just been released to excellent reviews. And Paul Payton has compiled The Catskill Mountain Railroad Album (including some of his new music) and is working on a solo album of instrumental compositions, "somewhere between rock and new age" - more details to come! (All links will open in new windows.)
For BOOKING, call 203-256-0580 or e-mail booking@RobCarlsonMusic.com
OUR LATEST CD: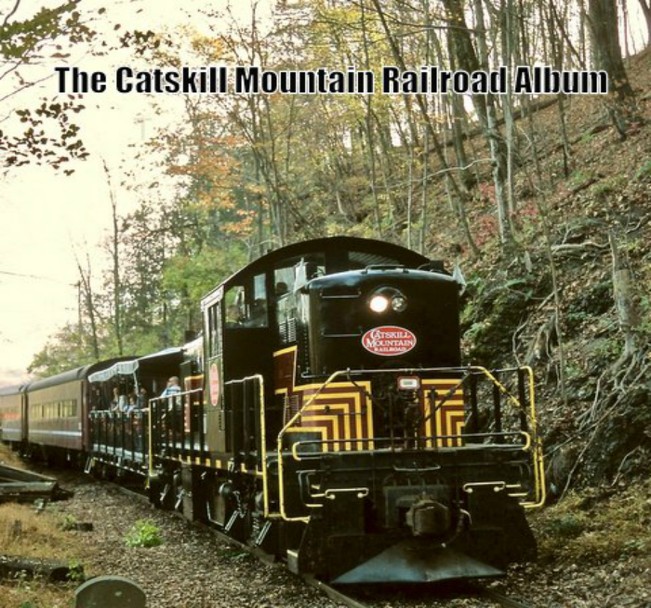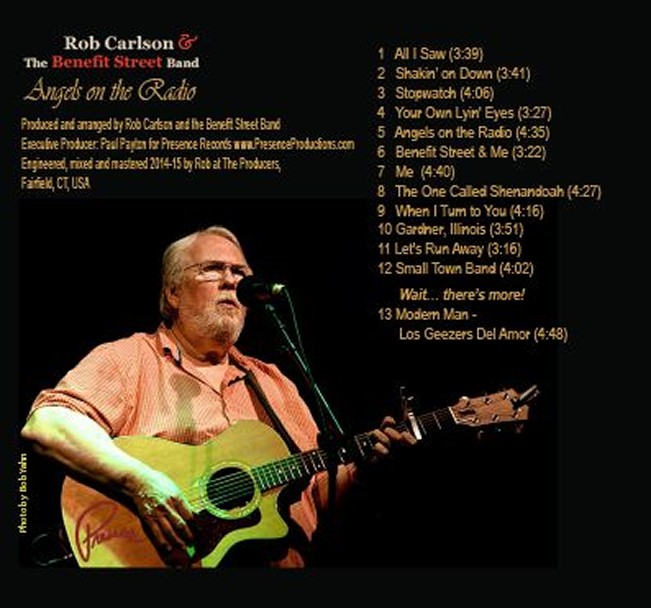 ANGELS ON THE RADIO by ROB CARLSON & THE BENEFIT STREET BAND (Presence PCD3304, 2015) is the second album from singer-songwriter Rob Carlson's new band, including keyboard artist Paul Payton, string wizard Vin Pasternak and drummer/multi-instrumentalist Sam Carlson (on select gigs). Featured tracks: "Angels on the Radio," "Shakin' On Down," "The One Called Shenandoah," and "All I Saw." The band, based in Connecticut, Rhode Island and New Jersey, plays primarily throughout the northeast.
"As Modern Man winds down I'm very pleased to announce a new album by my other project, The Benefit Street Band....Modern Man was always pretty strictly a comedy group. Benefit Street, on the other hand, lets me stretch out with a whole bunch of non-comedy songs as well as some old and new funny ones. For the last couple of years I've been writing and producing what I think is my best album yet, called 'Angels on the Radio.' It features ten songs by me along with one each from Paul Payton ('Me') and Vin Pasternak ('When I Turn to You') plus the very last Modern Man recording, 'Los Geezers Del Amor,' as a bonus cut.
"So what's it like? I have never liked pigeonholing my stuff, because I like to write in different genres and try not to repeat myself. It's basically acoustic, with folkie, Americana roots but influenced by rock and pop, jazz, Caribbean rhythms and more. No two cuts are alike. So you decide.
"I hope [everyone]will give it a listen and come out and see [us] live, with new songs, a new sound and still pretty doggone funny. We'll make it worth your while." --Rob Carlson, 9/12/15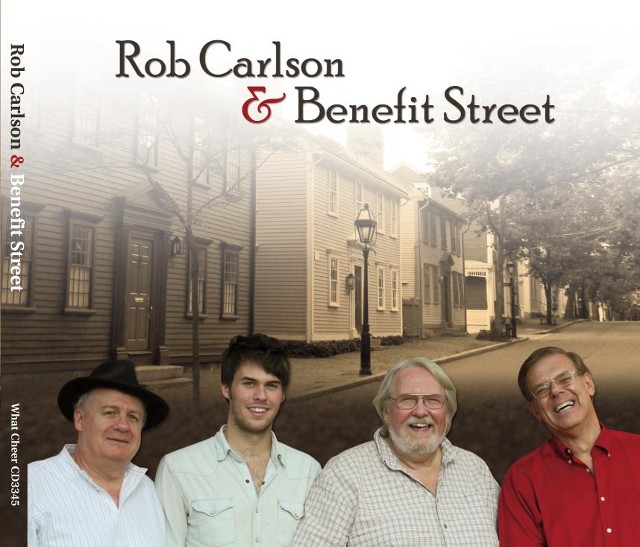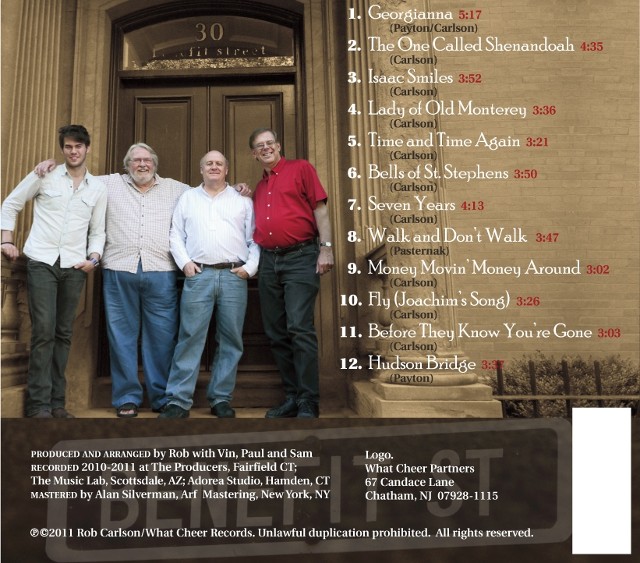 The band's self-titled 2011 debut (What Cheer CD3345, co-produced by Presence and Inverted Turtle Records), featuring "Before They Know You're Gone," "Time and Time Again" and "Hudson Bridge." The cover photos were taken on Benefit Street in Providence, RI, the
beautifully restored colonial street that also borders Brown University and Rhode Island School of Design. More information is at www.robcarlsonmusic.com.
For BOOKING, call 203-256-0580 or e-mail booking@RobCarlsonMusic.com
Live performances to be announced - keep checking in!